Producers Supply Co. Website Redesign and Brand Video
January 30, 2018 • Posted by: dylana
Producers Supply Company (PSC), one of our agency's tenured clients, is among the national leaders in oilfield supply. With two national locations in Waynesburg, PA and Oklahoma City, OK, they are conveniently located to service a number of natural gas shale plays. To help ensure the online sales and marketing efforts continue to match the level of sales and support of the company, a new website was created to help better serve the online needs of the customers.
The new website was assigned a few goals in the process, one of which being to ensure a strong emphasis on the products and manufacturers the company represents. Backed by the best brands and products in the industry, the new site was to reflect those same standards, and ensure that users are able to, quickly and easily, access the various manufacturers within each product category. Taking this an added step further, each manufacturer now has a product specific landing page that will allow the team at PSC to tailor the specific products and details on the website.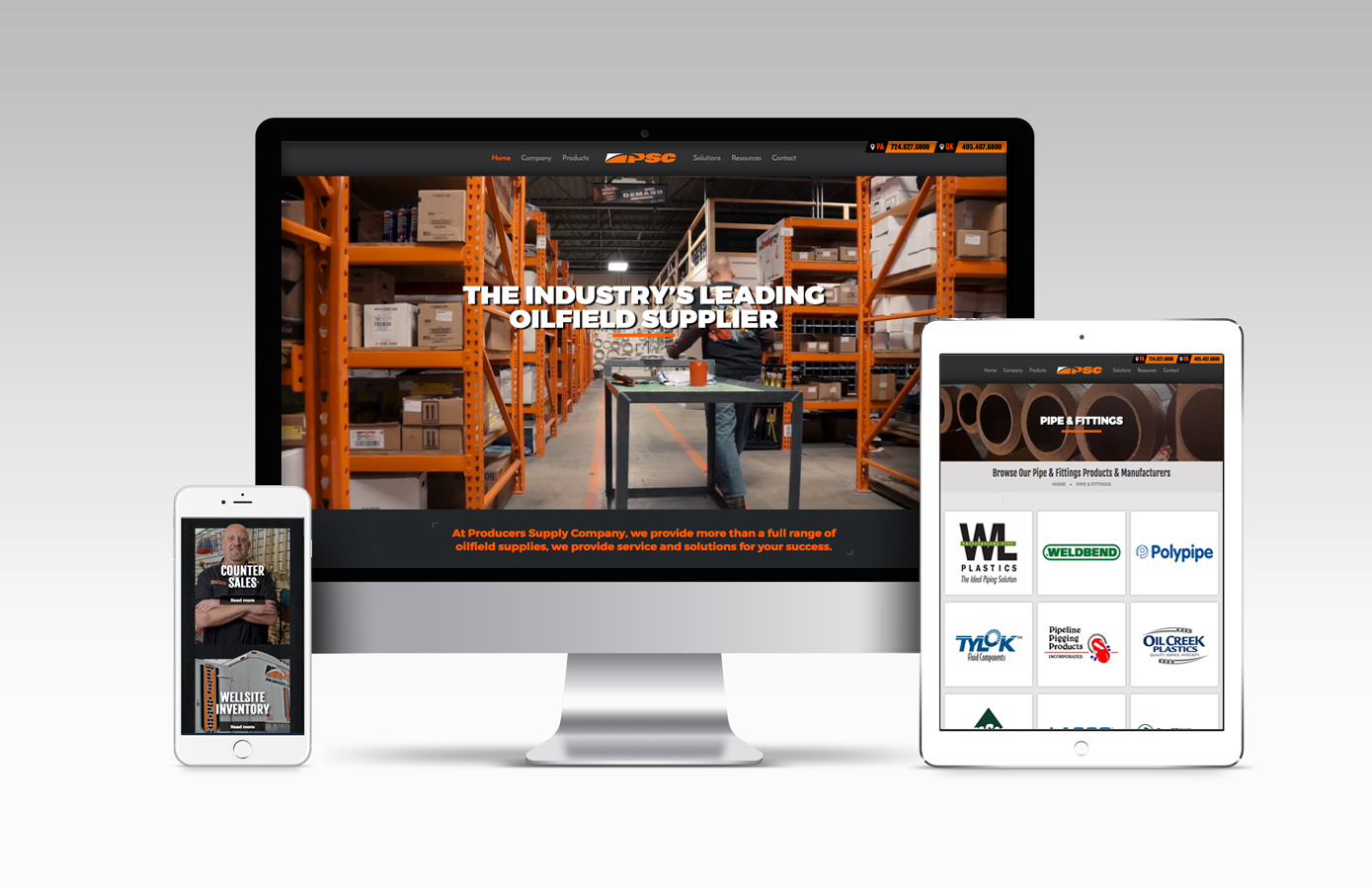 Another goal of the website was to feature the team at Producers Supply Company throughout the site. Ensuring customers understand that the PSC team is a key to their success, our team wanted to ensure the website reflected this same belief. To accomplish this, the site utilizes custom photography to capture the human element of the company. These visuals also showcase the PSC trucks and fleet, as one of the most distinguishable aspects of Producers Supply Company. The high-end pictures were captured by photography icon John Jackson, of Not Stock Photography.
In addition to the custom photography, The Stick Company helped produce a 60 second brand film that helps capture the various details of the company. For anyone who is familiar with Producers Supply, also knows their attention to detail is unrivaled. To best demonstrate this, we created an upbeat video for use on the website and social media that features the team, products and trucks of the company. The video also features some drone video of a delivery to a natural gas jobsite.
The design remained consistent with the PSC brand emphasizing the easily recognizable orange color scheme and dark colored backgrounds. The new website features a responsive layout to ensure best accessibility on any device, as well as a fully accessible content management system for easy maintenance and updates.
To view the Producers Supply Website, please visit www.P-S-C.com