Damian Ferek Addresses Alma Mater's Class of 2020
June 1, 2020
To say that 2020 has certainly been a year filled with uncertainty and surprises, would be an understatement. And for Damian, The Stick Company's President, this past May presented an additional surprise, as he was asked to be the 2020 Carmichaels Area High School Commencement speaker. While initially thinking it was a practical joke, or that there was not going to be a graduation, he gladly accepted and was honored at the opportunity to address the graduates at his Alma Mater. 
"I feel the pandemic must have canceled their original 10 choices, but I was extremely honored and grateful at the opportunity and consideration" said Ferek. "But, more than anything, I think the Carmichaels Area School District should be complimented on their efforts and dedication to still host a graduation, despite these challenging times."
Providing a cliff note version of his speech, Ferek detailed his background as a Carmichael's Alumni, career notes, and thanked a number of Carmichaels Alumni that have helped along the way. 
The core of his speech then focused on what he felt it takes to be 'A Mike.
A Mike will always have an undeniable work ethic. Maybe it is our small-town values, blue-collar mindset, or just a chip on our shoulder, but you will find that we will always work harder than anyone.  Dwayne 'The Rock' Johnson may have said it best, – Be Humble. Be Hungry. and Always be the hardest worker in the room.
A Mike will always have the drive to get involved with anything and everything you can… Whether it is with school, work, family or your community, get involved and lend a hand. Find where you can help, and make it happen. And always adopt and rescue a dog or two. 
A Mike has the ability to create change.  And if the last few weeks have shown us anything, it is that our community, our state, and our nation need positive change, especially from you, our upcoming leaders. Be the driving force of change. — To quote Dr. Martin Luther King Jr  — Hate cannot drive out hate; only love can do that. – So be that change.
A Mike has an appreciation and respect for everyone…  This includes race, gender, interests, financial and occupation. It also means we respect the generations that have paved our way.
A Mike has the ability to make a difference on your journey to success.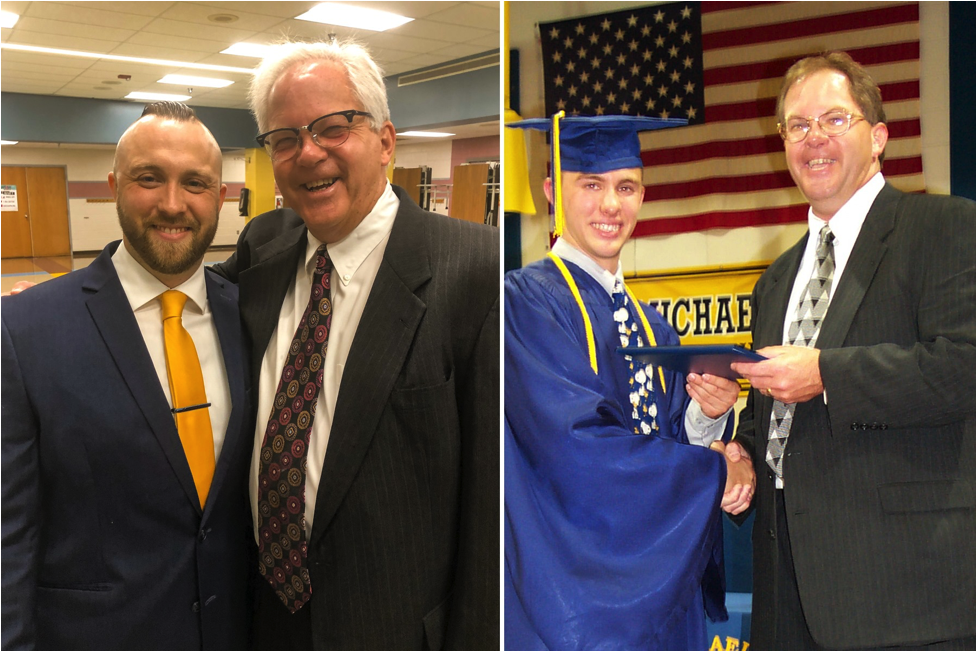 Damian is a 2001 Graduate of Carmichaels High School, with a strong community and family ties still in the community. Ferek is pictured above with his uncle and Carmichaels Area School Board Member, Ron Ferek, at this year's graduation, as well as his own graduation in 2001. At least his uncle kept a normal haircut through the last 20 years…