The Stick Co. Designs Truck Wrap for Invisible Fence
The Stick Co. was excited to design and install a truck wrap for a national brand, Invisible Fence.
The owner of the local Invisible Fence franchise is also active in the world of professional fishing, so the truck wrap design incorporated several decals of the Invisible Fence Fishing Team's sponsoring company logos.
Stick Installer, Devin McCormick, was impressed by the outcome of the truck wrap design,
"It was an awesome and truly realistic wrap," said Devin. "It was a straightforward installation and looked great when finished."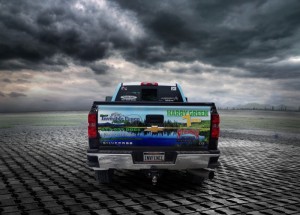 Backed by veterinarians and animal lovers, Invisible Fence helps keep pets in the yard by setting invisible boundaries without the expense of a traditional physical fence. For more information, visit http://www.invisiblefence.com.
__________________________________________________
Stick is the region's most aggressive vehicle wrap and non-traditional marketing company located in Morgantown, West Virginia. Providing services throughout Pennsylvania, West Virginia and Ohio, Stick offers a variety of custom wrap services including truck wraps, trailer wraps, and car wraps. Specializing in services for the construction, energy and industrial markets, Stick offers job site signs, job site banners, safety signs, directional signage, store signage and custom decals.