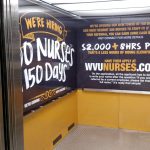 Boasting an impressive recall rate higher than 95%, elevator wraps are a modern form of non-traditional advertising ranking high in the minds of advertisers. But, why exactly is elevator advertising so effective?
"Elevator wraps are great for creating buzz around an event or product launch," said Damian Ferek, STICK, LLC Owner. "They're especially effective when you leverage elevator advertising in areas with high foot traffic and targeted demographics."
Think about it. During the length of an elevator trip, there are few distractions. Naturally, consumers tend to casually scope their surroundings and glance at the four walls that enclose them. Within those few seconds—or perhaps minutes—consumers have the chance to not only see the visual appeal of the elevator wrap but also retain the message. Elevator wraps ideally serve several purposes:
Corporate Branding
Product Launches
Sponsorships
Event Branding
Event Promotion
Buzz Building
Brand Messaging
Unlike most forms of advertising that are purposely ignored amidst the thousands of brand messages surrounding us daily, elevator advertising is hard to overlook and gives elevator occupants a visual to look at during a typically dull part of their daily commute.
Are you interested in elevator wraps? We STICK anything in West Virginia, Pennsylvania, and Ohio. In addition to car wraps, vehicle wraps, trailer wraps and more, STICK, LLC is ready to equip your brand with elevator advertising tailored to reach your target audience. Connect with us on Facebook or contact us to learn more.