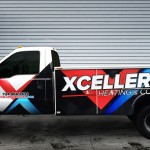 The STICK Co. recently completed a partial vinyl vehicle wrap for a new heating and cooling business – Xcellerated Heating and Cooling based in Carmichaels, Pa. The company offers 24 hours per day, seven days per week, and 365 days per year emergency service and repair response in Carmichaels as well as in a large radius of surrounding communities.
STICK was able to design, print and install a vinyl vehicle wrap, which utilizes the company's logo on a 2015 Ford F-350 service truck. This application showcases the companies branding in a bold, colorful way.
The STICK Co. is the region's most aggressive vehicle wrapping and non-traditional marketing company. The company's headquarters is in Morgantown, W.Va., a strategic location from which to serve clients throughout Ohio, Pennsylvania and West Virginia. The STICK Co. offers a variety of custom wrap services including truck wraps, trailer wraps, car wraps and more. Specializing in services for the construction, energy and industrial markets, The STICK Co. offers job site signs, job site banners, safety signs, directional signage, storage signage and so much more.
Contact us today to learn more about the STICK Co.'s variety of products and services.