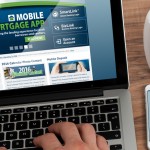 Clear Mountain Bank, one of the region's most recognized banks, has a long tradition of exceptional service and customer-first mentality. Long-time business partners, Clear Mountain has worked with The STICK Co. since 2009 to create and develop new visual standards for the company, whose marketing and web materials were given a facelift in early 2014
The STICK Co. has worked with CMB throughout the years on multiple website versions. In 2009, using the company's classic logo, STICK developed the Clear Mountain Bank Website with an easy-to-use dropdown navigation, as well as a portal-styled homepage highlighting important aspects of the site. The site, and following materials, put new flourishes on CMB's established brand and laid the foundation for the CMB website that exists today.
Most recently in 2014, CMB came to STICK looking for more modern programming tools such as responsive design and SEO, all while keeping similar design principles to maintain the look of their site. To achieve this, STICK reorganized CMB's content, giving it a slight refresh and ensuring it was coded appropriately. In the end, the design also received a different choice, making certain the site was both visually and structurally appealing.
STICK works closely with the CMB marketing team to create a majority of print efforts including print advertisements, billboards, in-store signage and a variety of handouts.
Complimenting the visual appeal of the website, STICK has also developed campaigns for CMB such as the LOCAL ROOTS campaign, Holiday Gift Card Campaign, Clear Mountain Cares and Number One Lender.
STICK also created new and fresh ideas for CMB business cards. Each division's employees were equipped with unique business cards, designed specifically to make each division distinct all while remaining brand consistent.
"The STICK Co. works with our marketing department at Clear Mountain Bank to develop concepts, creative ideas and memorable campaigns that help us stand out from the crowd," said Clint McCabe, VP of Marketing at Clear Mountain Bank. "Their staff is friendly, knowledgeable, and quick to respond to our fast-changing competitive environment. STICK has proven to be a great marketing asset for our organization."